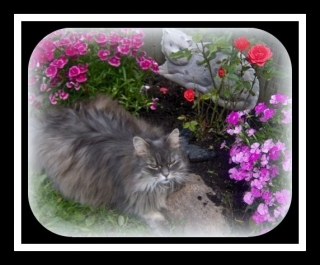 1998 – 2012
This beauty was a stray that walked into our home 14 years ago and never left. She was a keeper. We had to say goodbye to our Maddie on August 15, 2012. She was the most sweetest, social and talented little girl we ever had. She learnt how to shake a paw, spit when she was being teased, followed and waited for us to get home, just like man's best friend. She loved her sisters and brother but thought she was boss in her own way, even though she was the baby. She loved everyone and everyone loved her.We are going to miss her forever, she was one of a kind.
RIP Baby Girl (aka Chubby Cheeks) with Capper & Sassy.
Love you forever Mama & Daddy, Jazzie & Molly.