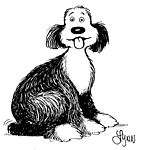 The Farley Foundation was founded in 2002 by the Ontario Veterinary Medical Association (OVMA), a professional organization representing thousands of veterinarians across the province.  OVMA started the foundation as a way to pay homage to the human-animal bond – a complex relationship between humans and animals that provides emotional, psychological and physical benefits to both groups.
OVMA administers the Farley Foundation, sharing office facilities, staff and corporated sponsors with the charity to help keep costs to a minimum, and to ensure that all receiptable donations are used to directly assist people and pets in need.
The Foundation is extremely grateful to Ontario veterinarians, veterinary technicians and their staff who participate in Farley Foundation activities to assist eligible pets and their owners, and regularly support the Foundation's work by making donations, and holding awareness and fundraising campaigns in their communities.
For more information about OVMA, Ontario veterinarians, the OVMA SafePet program, animal health care and other animal-related issues, visit http://www.ovma.org/
Who is Farley?
Does Farley look familiar?  Farley is the English sheep dog from the internationally syndicated comic strip, For Better or For Worse which appears in over 2,000 newspapers worldwide.
In 1995, the Farley character died in the realistic comic strip after saving the life of family member April Patterson who had fallen into a ravine.  Readers mourned as they would mourn the death of a cose friend or their own pet.  Farely's story is a touching representation of the human-animal bond.
Lynn Johnston, Canadian cartoonist, artist and creator of For Better or For Worse has benevolently loaned her beloved Farley to the Farley Foundation and is a generous supporter of the Farley Foundation.