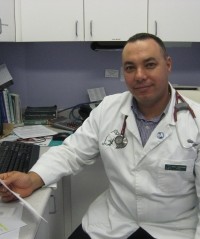 Doctor Raouf Abdelmalek graduated in 1990 and completed his training with the University of Guelph before starting his career in Lethbridge, Alberta.  He returned to Ontario and joined the Yorkwood Veterinary Clinic team in 2007.  It is important to Doctor Abdelmalek to educate clients about preventative measures and healthy lifestyle for their pets.  Doctor Abdelmalek has special interest in internal and emergency medicine and soft tissue surgery.
Doctor Abdelmalek's family includes his wife Mary, daughter Maria and son Mina.  They share their home with a loveable African Grey parrot named Joan Henry.
Doctor Abdelmalek enjoys gardening and bicycling in his spare time.