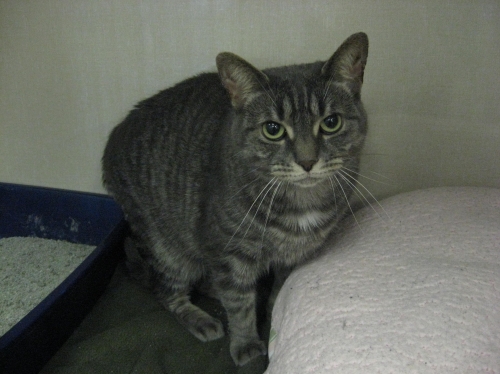 Graci is a nervous-natured cat because she was born to a feral mother. She was found in a bush as a tiny kitten. She tolerates gentle pats and scratches, but her previous home was a very busy environment and the stress brought on some issues with house-soiling. Medical issues have been ruled out and we are fairly confident that placement in a quieter home with a patient family will allow her to express the same personality we have seen here.
Jan 2012 UPDATE: GRACI FOUND A HOME!
We received the following email from Gracie!
Dear friends at Yorkwood,
I just wanted to send a little note to say thank you for sending me to live with Michelle. I think I'm going to like it here, I have my own bedroom where I spend most of my time lounging under the futon. I come out for the occasional belly rub or kitty treat though.
I've also decided to use my litterbox for a bathroom, instead of a place to roll around in, which I tried for a couple of days. I'm even using my food dishes now, instead of nibbling a few kibbles from the floor when Michelle would leave them out for me. But I definitely do not like yogurt, even if it is raspberry.
Michelle's place is nice and quiet, but I prefer to stay in my bedroom. I venture out when I think Michelle isn't looking and explore the hallway. One day I was really brave and made it all the way out to the kitchen. And last night, I even went out to the livingroom for a moment, and I got to see Indiana Jones on t.v.
Michelle has been very nice to me, when she visits my room, I come right out to say hi so she'll rub my belly. Sometimes I forget, and even let out a purr or two. She leaves the bedroom door open for me, so when I'm feeling extra brave I can go exploring. She lines my toys up every night, so while she's sleeping I can fling them around the room.
I hope you don't miss me too much. I enjoyed our time together, but I figured you might need my old room for another kitty who needs rescue, so I'll stick around here for awhile.
Love Gracie